ROAD AGAIN- OUR PRESENTATION FOR 2023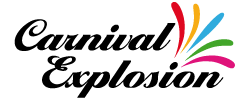 CARNIVAL EXPLOSION PRESENTATION SELECTION
Since 2012 we bring the beauty and joy of life in the style of Caribbean Carnival to the streets of Berlin. We have been inspired by very different cultural, historical but also themes of everyday culture in the past years. In 2020 we wanted to go a new path with an Asian-Caribbean theme. Due to the pandemic, the parade has been canceled. For 2023 we are just happy to be back!
PREVIOUS YEARS
2013- Superblue (A tribut to the Trinidad & Tobago's Soca Legend Superblue), sections: one section (colour: blue)
2014- Sno Cones (A tribut to this delicous threat of the Caribbean), sections: Apple (green), Lemon (yellow), Orange (orange)
2015- Midnight Robber (Theme inspired by the traditional Mas character of Trinidad & Tobago) sections: only one section (black/white)
2016- Arawaks (Remisence to the indigenous tribes of Trinidad & Tobago), sections: Suppoyo (red/ orange), Nepoya (teal/turquoise)
2017- Chutney (Tribut to the East Indian Culture in Trinidad & Tobago), sections: Radica (mint/violet), Karma (yellow/gold), Dulahin (peach/rose)
2018 – Panorama (The name of the most anticipated Steel Pan Competition in Trinidad & Tobago and a tribut to National Instrument), sections: Northstars (blue/silver), Desperadoes (purple/rose), Renegades (green/yellow)
2019 – Bird Sanctuary (Remisence to the Trinidad & Tobagos flamboyant Bird population and their endangered status), sections: Toucan (black/multi-colour), Ruby Hummingbird (nude/pink), Kingfisher (orange/teal), Macaw (red/royal blue/green)
2020 – PARADE CANCELLED – Treasures of ancient China (Following the longtime tradition of Caribbean Mas Band get their theme inspired by other non-caribbean cultures and with easy to identifiy origin.), sections: Dynasty (red/yellow), Jade (emerald/mint), Ming (white/cobalt blue), Peony (baby pink/ bright pink)
2021 – PARADE CANCELLED
2022 – PARADE CANCELLED
PRESENTATION FOR 2023 – ROAD AGAIN
4 years after the last Carnival of Cultures the theme is: ROAD AGAIN. We are simply happy to celebrate life and music on the streets again. Due to the short lead time until the final confirmation of participation and the very much increased material costs, it was unfortunately not possible for us to create new costumes. Each Masquerader will present himself in a professionell costume from the past years. Thereby we show the variety and beauty of different costumes and contribute to sustainability.