TREASUREs OF ANCIENT CHINA- OUR PRESENTATION FOR 2020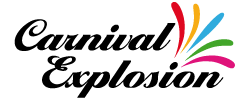 CARNIVAL EXPLOSION PRESENTATION SELECTION
After six years representing proudly themes inspired by the culture & nature of Trinidad & Tobago we take the next chapter to reach new horizons.
As common in Trinidad & Tobago getting inspired by different cultures & traditions and perfectly blend with Caribbean Pretty Mas this will be a new the chapter to tell. Come and follow our journey and join this unique experience.
TREASURES OF ANCIENT CHINA
Asian and Caribbean Fusion to present a Asian inspired theme is a new chapter for Carnival Explosion.
Ancient China produced what has become the oldest extant culture in the world. The name 'China' comes from the Sanskrit Cina (derived from the name of the Chinese Qin Dynasty, pronounced 'Chin') which was translated as 'Cin' by the Persians and seems to have become popularized through trade along the Silk Road from China to the rest of the world.
Trough the Silk Road there where traded also the famous treasures of China who are still significant known of this rich culture till today. To pay tribute to a few treasures we carefully choose our sections for you.
OUR SECTIONS
DYNASTY section – colors: red – yellow – gold –  "The remissence to the classic ancient China"
JADE section – colors: mint – emerald – gold – "The imperial gem"
MING section –  colors: white – cobalt blue – gold – "The porcelain for emperors"
PEONY section – colors:  baby pink – bright pink – burgundy -gold "Used and cultivated in China since early days for food, medicine and decoration in imperial gardens."
OUR DESIGNER
We are glad to work for the first time with Loic Corvo of CLTouch Design.
He is a well known member of the UCOM family in UK. He is used to do designs for UCOM Mas Band and other International Carnivals like Paris and Guadeloupe.
Born on a Caribbean Island and going trough design guidance of award winning International Designer Paul O'Donoghue (Exquisite Costume Creations/ UCOM Mas Band) he knows how turn visions into beautiful costumes.